Super-Duty 300 Tripod Sprinkler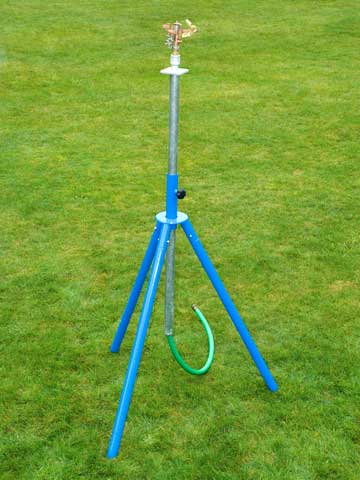 Telescoping tripod sprinkler extends from 3' to over 7' high with simple, easy to use, manual height adjustment. Powder coat over galvanized, schedule 40 plumbing. 7' Goodyear leader hose with all brass connections and brass impact srinkler included. Perfect for simulating rain on fruit trees, high shrubs and gardens. Built to last. Please see our impact sprinkler page for other impact sprinkler heads that fit your specific application.
See Detail Photos
•
Back to Superduty Spinklers
PATENT PENDING: Copyright 2011 Slip Fit Manufacturing. All rights reserved.
Available at:


Super Duty Tripod Sprinkers are the toughest sprinklers you can buy, period!
We fabricate sprinklers and sprinkler carts with ½" through 4" water supply. Custom builds available, call for details.
<