Superduty 150 Tripod Sprinkler Cart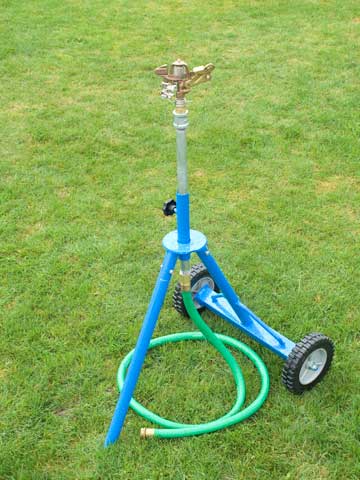 24"-36" adjustable height tripod stand. Powder coat over galvanized, ¾" schedule 40 plumbing. Rolls on 7½" solid pneumatic wheels. This stand is small but mighty, perfect for lawns and gardens. Built for a lifetime of service. Weight 24#. Leader hose and brass impact sprinkler included. Please see our impact sprinkler page for other impact sprinkler heads that fit your specific application.
See Detail Photos
•
Back to Superduty Spinklers
PATENT PENDING: Copyright 2011 Slip Fit Manufacturing. All rights reserved.
Available at:


Super Duty Tripod Sprinkers are the toughest sprinklers you can buy, period!
We fabricate sprinklers and sprinkler carts with ½" through 4" water supply. Custom builds available, call for details.